Lowest Prices Guaranteed! Hire Experts To Repair Your Canberra Carpets
Unlike other decorative items, carpets can turn out to be a great investment in keeping the house floor safe and secure from wear and tear. We are available to repair all forms of Carpet Damage In Canberra. Our amazing service has many benefits. So seeking help from our professionals or experts early can ease out half of the problems.
Moreover, we promise to provide services at the lowest prices. Hence, if you don't know what we offer and how we work, then get in touch with us now because we are the most suitable team you can hire for carpet repair in Canberra.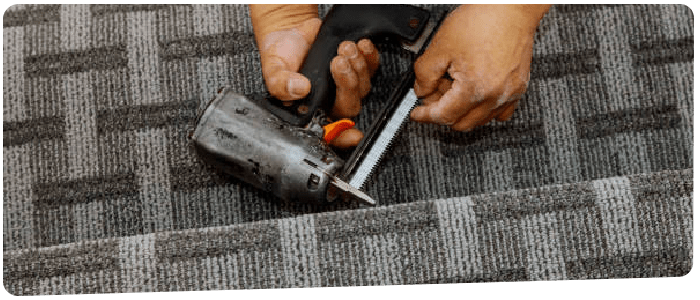 Our Experts Solve the following Carpet Repair Issues In Canberra
Carpets can get damaged in many ways. But repairing not only wipes out germs, disease-causing bacterias, it also enhances the longevity of the carpets. Also, it is important to mention that it keeps the floor clean and avoids other issues. Well, let's not waste much time and see the list what are the repair issue our experts of Carpet Repair Canberra look after:
Burnt Carpet Spot
Carpet Ripples
Furniture Impressions
Frictional Damages
Accidental Tearing
Here, we go into detail:
Burnt Carpet Spot
Burnt carpet spot is one of the most common types of damages that occur. There are many viable reasons for carpet burning such as a split of hot water, keeping the hot steaming straightener for a longer time on the floor may cause the front surface of the carpet. Thus, our experts look after it carefully and find out the correct solution for repairing it.
Carpet Ripples
Carpet ripples mainly occur when the carpet is attached to the wall. Buckling, stretching, wrinkles are likely to occur when it is not set up properly. As a result, it tends to damage. However, they are temporary but in some extreme conditions, the repair is needed to solve them.
Furniture Impressions
When the furniture is kept over the carpet without moving it for a long time, the impressions are likely to occur permanently. It destroys the whole outlook of the carpets which was the factor for providing stunning interior looks. That is why regular maintenance is a must and all these are adequately looked after by our experts to make the carpet look brand new.
Frictional Damages
Frictional damages are caused by the accidental fall which involves rubbing the skin on the carpet skin. This burns out some space on the carpet and makes the carpet look old or untidy. It is also termed skinning, chafing, etc. Well, worry not, for this case, there are plenty of solutions to regain its stunning condition.
Accidental Tearing
It is most likely to occur when certain work is going on using sharp objects such as knives, scissors, etc. This tearing increases the risk of falls. It also serves in unavoidable injuries. Thus, carpet repair should be done as soon as possible to avoid any serious risk.
Detailed Carpet Repairing Methods Used By Our Experts In Canberra
Since this era is all about using new techniques, we firmly decided to go for cleaning with new strategies to satisfy our customers' needs. We not only pay attention to cleaning but also pay heed to other carpet repair requirements which is important for carpets' longevity factor.
Unless the area of damage is not large, replacement is not necessary. Carpet base replacement can be done easily to remove all the wear and tears at the base. Firstly the area of the repairment is to be identified, while carefully removing out the old base using advanced technology.
While going for patchwork on carpets, the very first step is to run a series of tests to identify patches. Our experts know great ways for cutting out patches to make them perfectly fit on the floor. It is an effective way to repair easily and calling out pros is very beneficial.
Uneven stretching leads to prominent damage. That is why a handful of techniques should be followed to avoid damage. Thus, our pros use amazing methods of stretching the carpet while maintaining its condition. Repairs also involve stretching to keep the carpet in the right position.
For simple cuts, DIY's are enough. But for severe cases, re-gluing or using good quality tapes should be used to repair and avoid damage issues. Our professionals for carpet repair Canberra use high-quality seam repair products to increase its functioning.
Why Choosing Our Carpet Repair In Canberra Will Be The Best For You?
We are a reputed company and have experience in this industry from the past several years. We are the best among all other carpet repair services as we are available any time to resolve issues at the time of need. Our team will be your best choice because:
Emergency Carpet Repairs: Other than normal repair service, we take utmost care of clients' needs and demands. Emergency carpet repairs are done without any chaos and difficulty.
Residential And Commercial Carpet Repairs: We repair all kinds of carpets ranging from office carpets to bedrooms. We repair using the latest methodologies.
24×7 Hours Availability: Also, we are available 24*7 and we are ready to face any kind of carpet condition.
Budget-Friendly Carpet Repairs Methods: Unlike other repairing service costs, we use methods that are cost low and give the best result.
Local Experts: We only hire professionals and local experts to identify issues and work on them efficiently.
Telephonic Assistance: Any confusion regarding the service, our helpline is always on to hear any issues or feedback regarding our services.
If you are still thinking about why to choose us, then read out all the information mentioned above to know how we work and why our services are marked as quality service.